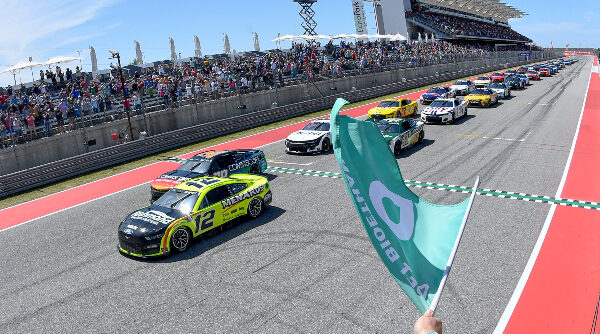 NASCAR will debut a new aerodynamic rules package for the NASCAR Cup Series in March at Phoenix Raceway, aimed to enhance the racing product at short ovals and road courses, the sanctioning body announced Tuesday.
The package features slight modifications to the Next Gen car that significantly decrease the downforce created by the vehicles. This configuration will be utilized at all tracks where "wet weather equipment" will be required: Charlotte Roval, Chicago Street Course, Circuit of The Americas, Indianapolis Motor Speedway Road Course, Martinsville, New Hampshire, North Wilkesboro, Phoenix, Richmond, Sonoma and Watkins Glen.
Chief among the changes are a two-inch rear spoiler (a reduction from the current four-inch blade on the rear deck lid) in addition to several tweaks underneath the car. Those include the removal of three diffuser strakes, engine panel strakes, and trimming the diffuser's outer fencing. All changes were run together during the second day of a January test at Phoenix.
"That basically adds up to about a 30% downforce reduction," Dr. Eric Jacuzzi told NASCAR.com. "We're now in a downforce level we haven't been at since pre-2000s for sure — like mid '90s."
Much of the direction of these changes was inspired by the Garage 56 program, a project NASCAR, Hendrick Motorsports, Chevrolet and Goodyear are working closely on to compete at the 2023 24 Hours of Le Mans. The first day of Phoenix testing earlier this year saw three different packages with that inspiration; but none of those combinations did enough to warrant any change from the original product.
"We put our heads together and we came up with a greatly reduced downforce package," Jacuzzi said. "Because one of the things that drivers kept saying was that the car — there's so much tire grip, the brakes are so good. So we said let's really just take a big swing at this and see if we can solicit a reaction, almost, out of them."
Teams were alerted of the new alterations the next morning and began setting up the adjustments over the next two hours. Through single-car and simulated mock race runs, a breakthrough was finally made.
"In those two races, definitely, the cars were noticeably tighter together," Jacuzzi said. "They didn't spread out as far and some of the drivers commented that they were really sliding around a lot, and they feel that the more kind of out of control the car is, the more real estate on the track becomes available to them to use. So that was kind of the feedback that led us to moving forward with this package."
Jacuzzi reiterated drivers were a key part of the conversation as testing continued, affirming the changes were going in the right direction.
"I don't want to speak for them, just anecdotally what they said at the test in our debrief meeting [was it] felt more like a race car," Jacuzzi said. "Definitely wasn't as planted, more able to move around and use all the track. So, a net positive. Of course, some people were a little more hesitant, but the difficulty in those tests is you're really making big changes and you don't have infinite practice time. So it tends to be people who aren't maybe running well at the test don't like it, obviously, because you don't want to be running around the back. But I think given enough time to adapt to things and have some prep time, they will be able to respond just like any other weekend."
However, there was another element tested at Phoenix: mufflers. Only The Clash at the LA Memorial Coliseum and the Chicago Street Course will feature mufflers this season, meaning the removal of the mufflers alters the aerodynamics a bit more.
With that in mind, NASCAR took the new rules package into the wind tunnel on Feb. 13 to confirm what was learned at the test and ensure the same desired impacts will be produced in later competitions.
Ultimately, NASCAR's competition team saw significant improvement in parity and racing quality on intermediate tracks in 2022, the Next Gen vehicle's debut season. But the same couldn't be said for its short tracks or road courses.
"We'd seen such great racing at the intermediates," Jacuzzi said, "and then the road courses and the short tracks lacked some of the action we expected. And the comments from the drivers about how good the brakes are and how much grip the tire has, it's fantastic but we do rely on, from our side, drivers making mistakes and things like that."
All road courses will see this package used as well as most of the short tracks on the 2023 NASCAR Cup Series schedule. Excluded from this change are the 0.533-mile Bristol Motor Speedway and 1-mile Dover Motor Speedway.
"We wanted to keep it some kind of a rule like, 'OK, let's start with a mile and under' and obviously Dover and Bristol would fall in that category," Jacuzzi explained. "The one complication is this year where we have the wet-weather ovals, where we would consider running on rain tires. So part of that is they need to essentially have the car prepared like it's a road-course car. So it'll have the lights in it. It's going to have the wiper and the [mud] flaps and everything.
"So a couple of teams and certainly the manufacturers asked us not to include those tracks, Dover and Bristol, because they would essentially create a fourth aero package where they wouldn't have the flaps and wiper in that. And we said OK, we had some decent events last year. We looked at our metrics and the stats were OK, so we went with that initial conservative approach — just take the industry's concerns into our minds and kind of wait and see.
"Certainly, I think if it's a smash hit this year and we see a big difference, we'll definitely have to look at it again."
To ensure teams have adequate time to get up to speed, the Phoenix race weekend will now feature a 50-minute practice session on Friday, March 10 as part of an extended practice weekend.
Article by Zach Sturniolo for NASCAR.com