NASCAR, Hollywood, and Fickle Fans
This past week, NASCAR and Netflix announced the launch of a new sitcom starring comedian Kevin James. He is best known for his roles as Doug Heffernan on the long-running TV series 'King of Queens' as well as the big-screen franchises of 'Grown Ups' and 'Paul Blart: Mall Cop'. The new multi-cam sitcom will see James doing double duty as the show's executive producer as well as playing the part of an old-school crew chief in a NASCAR garage. The storyline is based on a team owner who steps down and leaves managing duties to his millennial daughter. The character of James automatically rebuffs the direction the daughter wishes to take in order to modernize the team.
That's pretty much all we know about the show at this point, but it didn't stop the Internet's keyboard warriors from offering their unsolicited opinions, some which are fully prepared to hate the show because they are already convinced it will mock the sport.
James is a long-time fan of NASCAR; he even gave the command alongside Adam Sandler at the June 2010 Michigan race. Likely he agreed to the show because he sees potential, not because he's anxious to damn the sport or alienate its fans. That being said, the series is intended to be a comedy, meaning viewers should take a lighthearted approach and expect jokes aimed at the racing community along with some holes when it comes to authenticity.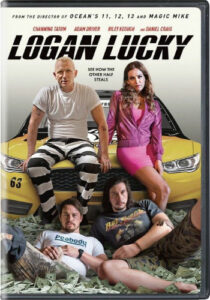 Given the online feedback we read surrounding this show's announcement, it sparked a conversation in our office about the sheer number of auto racing shows and movies that have been produced over the years, whether they did the sport justice or not, and how well they were accepted. The extensive list dates back to 'Ten Laps to Go', a 1936 drama about a driver willing to win at any cost. Some of these racing films have been made specifically for young kids like 'Herbie the Love Bug' and Disney's 'Cars', and some have been musicals like Elvis Presley's 1966 'Spinout' and the 1968 follow-up 'Speedway', the latter of which featured actual footage from Charlotte Motor Speedway and cameos by Richard Petty and Cale Yarborough. 2017's 'Logan Lucky' had little to do with the actual sport but featured plenty of driver cameos and turned out to be a great success. Some have been bio-pics like 1983's 'Heart Like a Wheel' based on the life of drag racer Shirley Muldowney and the new 'Blink of an Eye', which examines the relationship of NASCAR drivers Dale Earnhardt Sr. and Micheal Waltrip. And then there have been vanity projects like Sylvester Stallone's self-written, self-produced 'Driven' which debuted to poor reviews in 2001. But there's no doubt some of the most popular and successful auto racing movies to date have been about NASCAR.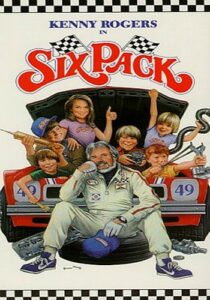 Let's go back to 1982 and a big-screen flick called 'Six Pack', where country singer Kenny Rogers took on the role of driver Brewster Baker, strangely with a bunch of orphaned, street-smart kids that eventually become his pit crew. Sure, that sounds real!
The fact is, the movie was all kinds of weird and did nothing to accurately portray the sport, but that didn't stop it from being a big hit — so big, in fact, that it triggered a TV series of the same name starring Don Johnson. Clearly, NASCAR fans were not offended by the absurdity and lack of authenticity and instead embraced it for its entertainment quality.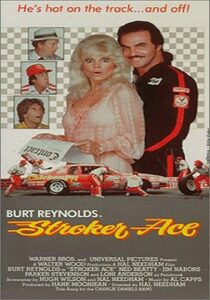 Next up, 1983's 'Stroker Ace', which took a similar foolhardy route but wasn't nearly as successful. This was a Warner Brothers film starring Burt Reynolds and Loni Anderson, alongside Jim Nabors and Hardy Boys heartthrob Parker Stevenson. At that time, Reynolds was heavily into NASCAR, having partnered with fellow actor Paul Newman and producer/director Hal Needham to own the #33 Cup Series car known as the Skoal Bandit. The car was driven by Harry Gant. Skoal chewing tobacco was the sponsor while the Bandit aspect of the name came from the mega-success of Reynolds' 1977 movie, 'Smokey and the Bandit'. Unfortunately, the script for Stroker Ace was even sillier than Six Pack, with slapstick-type fight scenes with Stevenson, Reynolds dumping a load of wet concrete on his sponsor to express his anger, and driving while wearing a full chicken suit to please his replacement sponsor, Chicken Pit fast food restaurants. Reynolds basically reprised his Smokey and the Bandit role but was far more doltish, and Loni Anderson was primarily eye candy. As it turned out, fans of the sport and of Reynolds were turned off. They seemingly expected more from him given that he was part of NASCAR, so the box office did not reflect the success Reynolds had hoped for. He often lamented that Stroker marked the downturn of his career, and the on-screen pairing with Anderson led to their ill-fated marriage. That being said; the movie title still ranks among the most memorable of NASCAR movies, and Reynolds left a lasting impression on the sport with his team ownership and iconic car.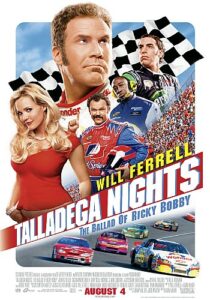 It's funny how, years later, 'Talladega Nights' would hit the big screen and would not only be accepted for its ridiculousness but was (and still is) actually celebrated for it, to the point of becoming a cult classic. Comedian Will Ferrell successfully delivered an over-the-top character, as he typically does with all his movies, and embraced stereotypes to become the one and only Ricky Bobby. A driver at the top of his game, Bobby autographs babies' heads, prays to 'Baby Jesus', drives blindfolded and destroys his neighbourhood while attempting to 'feel' like a driver, names his kids after a Chuck Norris TV series, and drives with a fully grown wild cougar in the car in order to overcome a fear of crashing. Umm… yeah, there was little to no reality about this NASCAR-based movie and yet that was fine by everyone who viewed it, including die-hard race fans. As a matter of fact, numerous one-liners such as 'Shake & Bake' and 'If you're not first, you're last' have been adopted by the racing community and have been used and reused countless times, even by commentators during races. Yes, Ricky Bobby was an undeniable success with $163M in box office receipts to prove it.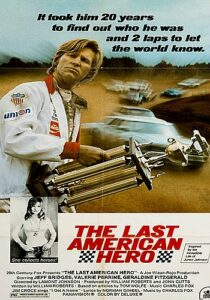 On the flip side of comedy was 1973's 'The Last American Hero' which was presented as a docudrama that starred Jeff Bridges and focused on the life of driver turned crew chief, Junior Johnson. Everything from his days of running moonshine to his publicized confrontations with sponsors is addressed as the movie chronicles his life on the racing circuit.
For the most part, fans loved it. Their reason — because it harkened back to a time when NASCAR was genuinely old-school, before the many rules, corporate sponsors and interference, flashy drivers with flashy paint schemes, and a 40-car field. But if that's truly the case, then it doesn't explain their overhwelming love of our next movie in question, which was definitely flashy and somewhat trashy.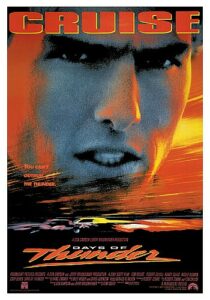 Caught somewhere between drama and pure cheese is the unforgettable Tom Cruise offering of 'Days of Thunder'. Undoubtedly, this is by far the most popular NASCAR film to date. It dominated the big screen in 1990, at a time when NASCAR was in its heyday. Box office receipts totalled $158M with $40M more in video rentals. Cruise played Cole Trickle, a character that was loosely based on driver Tim Richmond. Although the script was not intended to be a documentary, many of the scenes were taken from real-life incidents such as racing and wrecking rental cars on city streets and refusing Trickle's pit stop because the crew was busy eating ice cream. A similar situation supposedly happened during the 1987 Southern 500 and involved Hendrick Motorsports crew chief Harry Hyde.
Although Cruise hung out at the track to learn about the sport; Hendrick Motorsports provided the cars that were used and actually raced them on 3 occasions for footage; and cameos were made by well-known drivers Neil Bonnett, Rusty Wallace and Harry Gant, there was still a tacky quality about the movie that shone through. Viewers and critics complained about the insincere dialogue and acting, and the unrealistic special effects, for example. But that didn't stop Days of Thunder from becoming the most iconic NASCAR movie to hit the big screen, with a recognizable tagline of 'Rubbin' is Racing' that undoubtedly will live forever.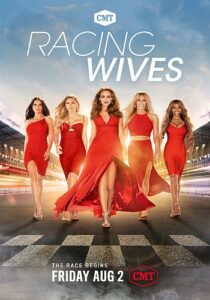 Taking the Hollywood-ized phenomenon to a new level, CMT recently debuted the reality series 'Racing Wives', which features the wives of Cup Series drivers Kyle and Kurt Busch, and Austin Dillon. Also featured is the wife of Paul Shawn, the jackman for Dillon, and Amber Balcaen — the only female driver of the bunch, piloting a super late model car for Kyle Busch Motorsports. The show is intended to depict the real lives of these women and what its like to travel track to track with their husbands 38 weeks a year. On the plus side, it manages to include snippets of personal pursuits including businesses and charities, but it also includes enough make-up to start a clown college and a level of cattiness that belongs on Vanderpump Rules or the Real Housewives of… (insert name of city). And the dresses and gowns worn in promo images for the show seem to belong on a red carpet. It's so strange that producers are putting a Hollywood-like spin on these women when, ironically, the glitz and fluff is the very thing die-hard NASCAR fans claim to despise. As a result, the show is getting mixed signals from viewers, with some liking it and others truly hating it. For example, numerous reviews and online comments call the women fake, ridiculous and an embarrassment to the sport… and to their husbands. Ouch!
Yes, the keyboard warriors are brutal but that's the reality in today's world, and it undeniably assists in dictating what passes and what fails.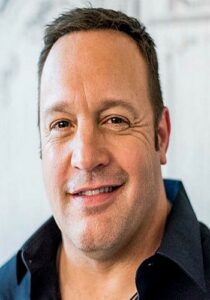 So… will the new Kevin James sitcom be a hit or a miss? Only time will tell. Clearly the NASCAR community is a fickle bunch with ever-changing standards about what is and what is not acceptable. One only needs to watch social media light up every Sunday after a race in order to see just how detailed yet inconsistent their opinions can be, and how many arguments arise because of it.
Certainly, you won't have to wonder for long as to whether they like this new sitcom because you can count on them taking to their keyboards, likely before the first episode even ends, to express their feelings and debate who is right.