The skies over Pocono Raceway were unusually sunny and it was the perfect day for a race as fans poured into the grandstands.  While cars were lining up for pre-race tech inspection, we were invited to the No. 78 hauler to meet up with Martin Truex Jr's Canadian crew chief, Cole Pearn.  He spoke to us about growing up in Canada, making the transition from CASCAR to NASCAR, and what Martin Truex Jr's chances are to clinch the Championship at Homestead. So strap in, sit back and read how the conversation played out: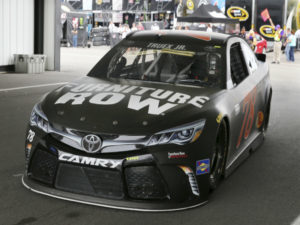 It's obvious that your father's career in racing spawned your interest, but if you hadn't followed that path, was there something else you ever wanted to do?
Cole: Not really. Growing up in Canada, I played hockey and skied and those were my two other main interests outside of racing.  But racing always came first in my family and I was into it before I even realized there were options to do other things.
Clearly, there was a time span between your time in CASCAR and then NASCAR when you returned to school for your mechanical engineering degree, but was it hard to make the transition to NASCAR, especially being a Canadian?
Cole: Yeah, it was really hard. When I first moved from Canada to North Carolina and got a job at Richard Childress Racing, I was one of maybe five people who didn't carry a gun in their car so it was a big cultural shock. Colorado is a lot more Canadian-like than other states, I guess you could say, but it was a huge shift. There were a lot of days that were pretty eye-opening and even the work that goes into the teams was different.
Do you ever miss being behind the wheel?
Cole: Yeah, but not everything that comes with it. It's a lot of work. When you're doing it at a lower level, you never have enough money or enough time and it becomes just a taxing thing on your life, so this is better.
Has there ever been a time when Martin Truex Jr has made a move on the track and with you being an ex-driver, perhaps you've looked at him and thought: "That's not something I would have done."  Does it ever frustrate you?
Cole: (laughing and said jokingly) Yeah, about every week. But on the flipside, he impresses me a lot, too. It's easy to be a backseat driver. Sometimes when you have a bird's eye view it's a lot different from when you're in the heat of the moment.
Definitely, and I think that could be said about a lot of things in life. Do you think your position as an ex-driver allows you a special relationship with Martin?
Cole: Maybe. You definitely believe him more when he says something about the car. I think it's true for most crew guys/driver relationships in the garage.
Given that you won here last year and won the pole this year, how are you feeling about today? If the race actually runs…
Cole: Providing we actually race today, I'm feeling pretty optimistic.  Obviously, with these races anything can happen. We've had it happen to us a lot this year where we've had the fastest car and not necessarily got the result we wanted. You can't really plan on it. You just got to keep an open mind and be ready to react when the situation changes.  Hopefully, we can get it done.
Given where the team is sitting in the playoffs grid, how do you feel about your chances for the championship?
Cole: Good. Playoffs are pretty intense with multiple 3-race segments so there's not a lot of room for error.  You just hope you can bring consistent results, and if you can get a win it's great to get yourself into the next round. We were able to get through all the way to Homestead last year and I have a better understanding of what that takes. I'm definitely optimistic and I think we have the speed to do it. It's just a matter of whether everything comes together.
So you'll be back at Charlotte for a chase race in October, do you think the No.78 team can be as dominant as you were for the Coca-Cola 600?
Cole: You never know. That was rare to be able to have such a clean night with nothing getting screwed up. It's been a really good track for us for the last two years and we feel like we have a good understanding of what it takes to be good there. I think we finished third there last fall and we led a lot of laps in the Coke 600. It's been a good track for us so hopefully, we can be.
If given the chance to work for any other team, would you?  Who would it be and why?
Cole: I'd work with this team. I like this, we have a great group. There's plenty of opportunities to go to other places.  Being in Colorado and being part of a tight-knit group as we are, it's really hard to leave this garage.
Well, we wish you the best of luck today and thank you for your time.
Cole:  Thank you.